Mother's Day is here! Choosing the perfect, healthy mother's day gifts for a woman who has been there for you through thick and thin may seem daunting, but we see this holiday as an opportunity to show your supermom just how much you appreciate her.
If you have or know a hyper-active wellness master mom, giving her a present that complements her lifestyle is the most awesome gift she will ever receive! The great thing about giving healthy Mother's Day gifts is that she will use them!
The standard photo frames, chocolate boxes, and glistening jewelry will most likely be stored away. Whether she enjoys jogging in the parks, trekking in the wilderness, or relaxing on the balcony, there's a Mother's Day present she needs! Therefore, let's explore the list of healthy Mother's Day gifts!
This lightweight, wearable Fitbit device can conveniently monitor exercise, sleep, and steps. A powerful battery backup and a simple, user-friendly UI If she needs to dress it up, replace the silicone band with a gold or silver metal variety. She will absolutely like this present.
I have a FitBit Luxe and I really love it. It has pink bands and I use it to track my activity as well as my sleep.
Provide her with a mat that maintains itself. The mat will be of great assistance to her when doing yoga activities and exercises on the patio. The mat has a fantastic mechanism that automatically rolls it out and backs up when the session is done. There are mats with different thickness to try out. I personally love the thicker ones because I like to alleviate the pain from close contact with the floor.
It is one of the items she will utilize daily during her morning and evening runs. You may choose a brand-name running shoe such as Nike or Adidas, or you can go for a good-quality design with breathable mesh to reduce the strain on your mother's feet. It will also make her workouts more efficient.
If your mother is a gym fanatic, she will like this present! Help your mother take her water bottle and training gear to the gym by providing her with a beautiful, pocket-filled, and roomy gym bag. She can also carry his wallet and a few other items for errands. Additionally, you may personalize it by imprinting her name on it.
5. Chocolate Nut Cake! Yum!
Well, it's really one of the healthiest cakes! You may prepare it at home for her. This cake is produced using a healthier combination of flours, sugars, and fats. Present it to her on Mother's Day and watch her grin grow wider. All the healthy ingredients are disguised in this delicious cake, so she won't say no.
A fantastic present for your mother that keeps hot items hot and cold items cold! Allow her black coffee to stay hot while she runs and jogs so she can drink it as if it were freshly brewed.The bottle is available in a variety of colors and styles, giving you several possibilities.
In any case, the list of healthy presents for mom would be incomplete without including these fantastic jeans. Give her a pair of customized exercise trousers that will look good on her when she works out at the gym or in the park instead of the standard black yoga pants. She will really like your selection of this item.
8. My Habit Change Journal
Moms will surely love this! Especially moms who would like to transform their life in a year. 
Mixing years of professional coaching experience alongside my personal formula to TRANSFORM my life, I created this yearly Habit Journal to help YOU transform ALL of your life in 1 year.
I tackle the big five areas of your life all in one year to unleash your personal development transformation. This journal includes topics in love & relationships, money, career, purpose, and health.
Each month is jam-packed with different focuses in each of the big 5 areas of life to be able to transform your ENTIRE life in just one year.
9. My Inevitable Success Kit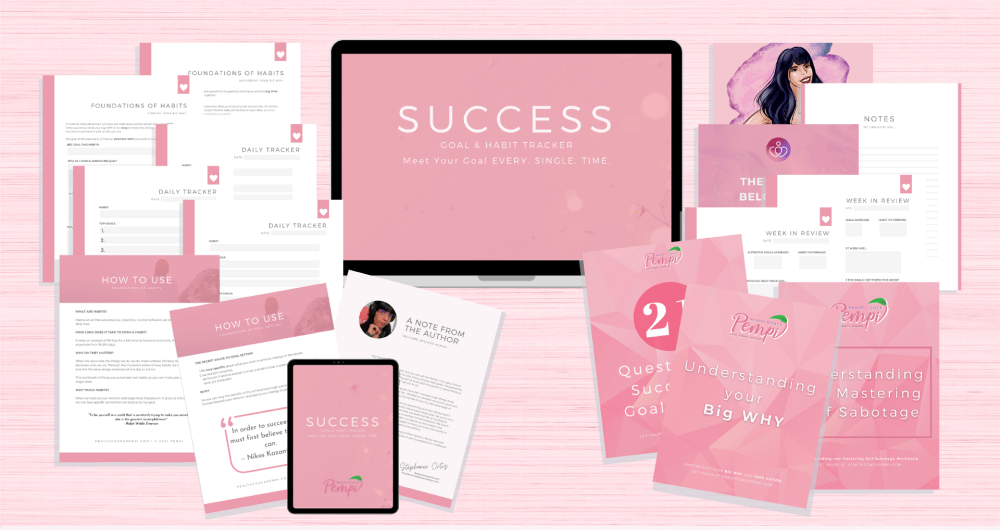 You know what's better? This! It has the secret recipe for moms to always meet their goals.
As a certified transformational coach, I have a SECRET RECIPE for ALWAYS meeting my goals in life and I created the Inevitable Success Kit Workbook Journal to help you achieve and exceed your goals every single time.
The Inevitable Success Kit Workbook Journal is a step-by-step blueprint that shows you exactly what you need to do and how you need to do it so you can bridge your say-do gap and start building the life you've always wanted.
You can give your mom one of these healthy Mother's Day gifts to show her that you care. Select the ideal Mother's Day health gift for her and bring an elegant smile to her face with your thoughtfulness. Happy Mother's Day!
With Love,
Pempi 💖
Need help and support in your personal development journey?