Looking for energy boosters to double your sexy time?
As a female entrepreneur, I always find myself trying to do my best to keep both my body healthy and my energy levels high enough to get done all of the daily goals that I've set up for myself plus some extra energy for sexy time.
I have to pay attention to my menstrual cycle so I can align my energetic efforts with my body to be my most productive self. 
Today, I'm going to show you 3 easy ways to boost your energy. So no matter how busy your life is, you can manage to get more energy throughout the day!
Energy Boosters #1 -Morning-
Have you noticed how terrible your day goes when you don't have a good sleep? 
You suddenly lost power and have to deal with passing a hot night without proper ventilation. 
You might have had an emergency that took way longer than expected.
Or you might have decided to go out and stayed a little extra time.
Whichever reason, it's hard to wake up refreshed and ready to take on the day with your best foot forward after such events. 
I call it the WA-FEE. 
Make a glass of water the first liquid you drink in the morning. Why WA-FEE? Because instead of drinking coffee first, you'd be drinking water to hydrate your body. 
Here's how: 
Before you go to bed, set a full 20-ounce glass of water next to your bathroom sink. 
After you wake up, brush your teeth and drink the water!
Why is this effective?
Water hydrates all our systems. In fact, we're about 3/4 water. Which in turn hydrates our cell, tissue, and organ regeneration. By keeping our blood at the right consistency, we can help deliver oxygen to our muscles, which immediately boosts your energy.
This also benefits your digestion!
Drinking enough water helps keep the enzymes and bacteria in your digestive tract running smoothly and this helps get your bowels moving for better digestion. 
Getting into the habit of eliminating waste first thing in the morning will prevent it from being absorbed into your system throughout the day and give you an instant energy boost. 
Energy Boosters #2 -Noon-
Feel the Freshness!
Many of us live hectic lives often away from the sun indoors whether it's at home or at work. 
The key here is to clear your mind, focus your breath, and be present with nature; a practice of mindfulness outdoors. 
Leave your fetter phone indoors and walk outside of your home or office building with the intention to clear your mind and absorb clean green energy and sunlight. 
Talk a walk, observe, smell your surroundings and be fully present in the moment. Do this for ten minutes! 
If you cannot leave indoors, then sit by a window and breathe in the outside air. If space has plants, sit by the plants and breathe their clean oxygen emissions. 
People might look at you as if you're crazy, but you're doing yourself and everyone around you a favor by recharging your energy and giving your mood a boost!
This is especially good for that special time of the month where hormones can affect our mood. 
Ever heard of Forest Bathing or "Shinrin-Yoku" in Japanese?
It literally means quiet walking among the trees and refers to the boost of energy that we as humans receive from the trees in the form of phytoncides (wood essential oils) which induce relaxation and therefore an energy boost. 
Energy Boosters #3 -Night-
This one is awesome and it's designed to give you that last jolt of energy to make it through the night after a long day of work. Ready? 
Think of your favorite song of any kind of music that makes your body want to move. 
Then find it on YouTube, Spotify, Tidal, or whatever music source of your preference you're using. 
Find a private space where no one's watching and let the music take over your body.
Plug your headset or earphones and move your body as the music makes you feel. 
Feel the movement, soar with the music. be in the moment and let your body do the expression it desires. 
The trick here is to give yourself permission to LET GO.
Literally, dance like no one is watching!
Do it! Feel the surge of energy through your body. 
In no time, you'll be happily stacking the dishes with a smile and finishing all your daily duties before bedtime. Ideally, you'd have enough energy to enjoy sexy time with your partner as well 😉
You can download or print the summarized at the end of the blog 👇👇👇 to help keep you accountable! 
Ready to learn more about easy ways to double your energy?
I've helped people like you transform their energy levels, so they can:
Get more done in less time
Experience more energy, and enjoyment of food, their bodies, and their sex lives
Feel and look great so they can feel a profound satisfaction that emanates into all corners of their lives beyond the bedroom. 
Would you like to experience these results, too?
Truth is that doubling your energy is the KEY to experiencing your best health, your best body, and your best life.
I can help you achieve that, even if nothing else you've tried has worked.
That's why I'm excited to invite you to a private, 1-1 "Double Your Energy Breakthrough Session" with me!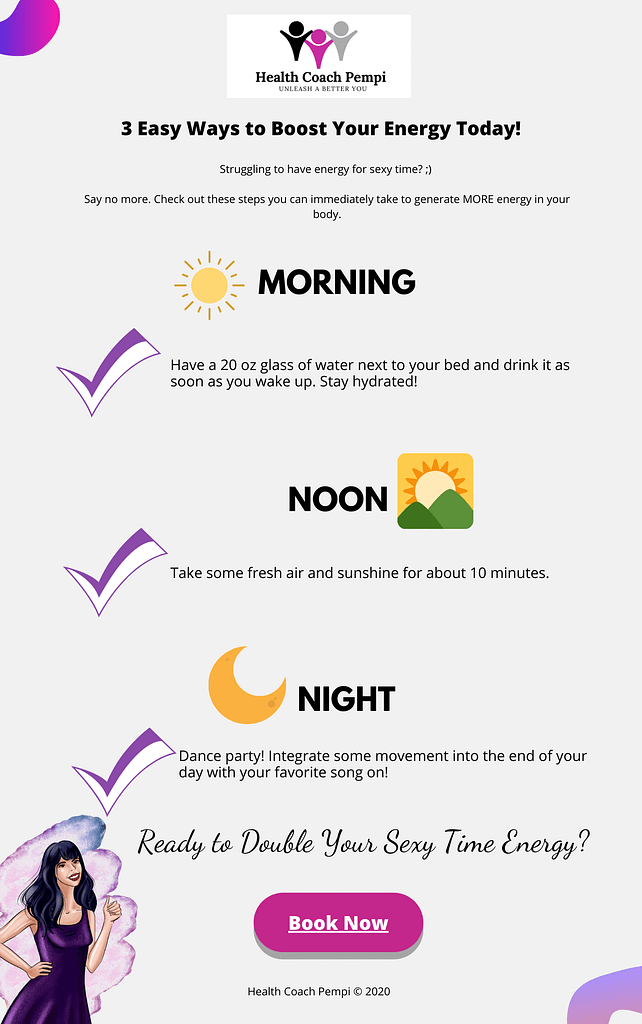 Need help and support in your personal development journey?