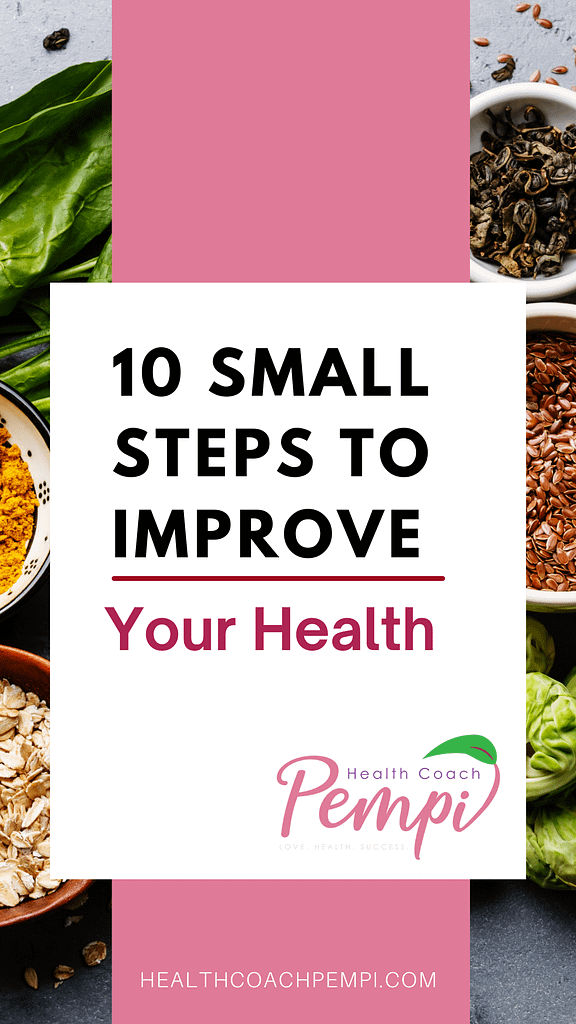 What are you doing to improve your health? Start doing small healthy lifestyle habits to boost your health today.
Lose weight, go to gym, start practicing yoga… These are just some of the most health-related resolutions that most of us set. Yes, you can achieve these goals but sometimes, people push too hard to achieve these goals. While it is common to set high goals, experts say that setting smaller goals could do more for our health.
"Small steps are achievable and are easier to fit into your daily routine,"
says James Hill, Ph.D., Director of the Center for Human Nutrition at the University of Colorado Health Sciences Center.
"They are less overwhelming than a big, sudden change."
In fact, small steps are the secret ingredient to transform your life to whatever you want it to be. It is through small, consistent steps that we can get and stay there.
Instead, you can start small and develop daily healthy habits that will improve your health in a long run.
1. Watch Your Weight (in a very healthy way)
Just to be clear… keep your weight within the Body Mass Index (BMI). Body mass index is a value derived from the mass and height of a person. Maintaining a healthy weight is important for your heart health.
2. Take More Steps
Move more — it's one of the most important healthy lifestyle habits. Take more small steps. You can use a pedometer to count your daily steps and add 2,000 steps or one extra mile. Keep adding 1,000 to 2,000 steps until you're comfortably taking 10,000 steps on most days.
3. Eat Your Breakfast, You Need It
Eat breakfast. It's the most important meal of the day! When you eat breakfast, you'll eventually weigh less and have better diet overall. If you're not a breakfast-type person, start with breakfast smoothie. Throw in some fruits and enjoy!
4. Embrace Whole Grain
Switch three grain servings each day to whole grain. They are better sources of fiber and other important nutrients, such as B vitamins, iron, folate, selenium, potassium and magnesium
5. Salad is Your Bestie
Have at least one green salad every day. Make this your one of your healthy lifestyle habits starting today. Having a fresh salad every day can make it easy to get all of the fruits and vegetable servings you need, plus it supports a clean eating lifestyle.
6. Say Goodbye to Fats
Trim the fat. Fat has a lot of calories and calories count. So instead of margarine or butter, try whipped butter. Instead of mayonnaise, try mustard. Other things you can do are purchase lean meats, eat poultry without the skin, or switch to lower-fat cheese.
7. Drink Your Milk
Consider calcium! Your body needs calcium to build and maintain strong bones. Your heart, muscles and nerves also need calcium to function properly. Include 2-3 daily servings of low-fat or fat-free milk or yogurt. 
8. Downsize: A Healthy Lifestyle Habit
Downsize! The smaller the bag, bottle, or bowl, the less you will eat. Pay attention to portions. Buy smaller packages because larger packages make us think it's normal to serve and eat more.
Also, eat slowly. Utter at least one complete sentence between bites. Many people eat so fast that they don't taste anything and then rush back for seconds. Give your body a chance to feel full.
9. Lose Weight (for a little bit)
Lose at least 5 to 10 percent of your current weight, but of course, do not overdo it. Do this in a healthy way. Learn more about overweight and obesity so you can be educated and informed about the risks. For specific questions, please contact your primary care physician or nutritionist to ensure you're building the right plan for your health. 
10. Be on the Lookout of What You Eat
Keep track of your eating. Write down what you eat over the next couple of days and look for problem spots. Often, just writing things down can help you eat less.
These are just a few things that you can start today.
Do you need something to help you keep track of your healthy lifestyle habits? My 2022 Habit Change Journal can be of help with that too. Each month is jam-packed with different focuses in each of the big 5 areas of life to unleash your personal development transformation.
With Love,
Pempi 💖
Need help and support in your personal development journey?