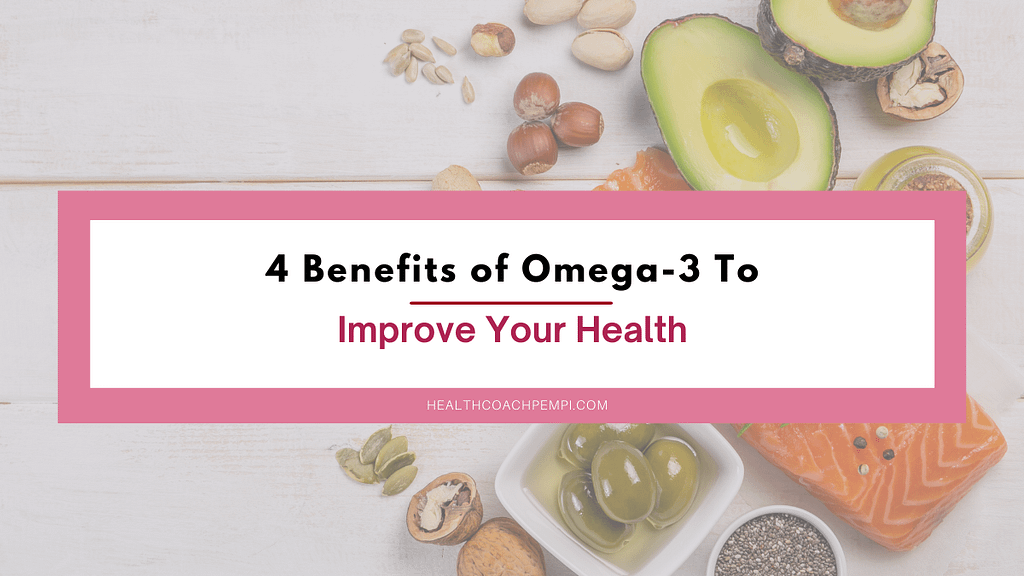 What are the benefits of omega-3? Read this blog to learn how you can improve your health with omega-3.
Omega-3 fatty acids are nutrients obtained from food (or supplements) that aid in the development and maintenance of a healthy body. They are essential to the construction of every cell wall. They also serve as an energy source and aid in the proper functioning of your heart, lungs, blood vessels, and immune system.
Not only does your body need these fatty acids to operate, but they also provide significant benefits for better health.
1. Benefits of Omega-3? It's Good for the Heart!
Omega-3 fatty acids lower your risk of developing coronary heart disease, which is the leading cause of death in both men and women.
Harvard University did a study on omega-3 fish oil supplements and discovered a link between regular consumption and a lower risk of heart attack and most cardiovascular illnesses.
Their study includes data from nearly 120,000 participants from 13 randomized studies conducted throughout the globe, including three recent large-scale trials. They discovered that people who took an omega-3 fish oil supplement on a regular basis had an 8% decreased risk of having a heart attack or dying from coronary heart disease.
Researchers believe that omega-3 doses higher than the standard quantity (840 mg/day) utilized in most randomized clinical studies might give even bigger reductions in cardiovascular risk.
2. Omega 3 Can Help People with Depression
Stem cell technology presents scientists with a seemingly endless research tool. Using "depressed" human stem cells, Chicago researchers discovered that fish oil may be used as a "antidepressant."
Skin cells were collected from two groups of depressed patients: those who had previously reacted to medicines and those who had not. It demonstrates that fish oil has an antidepressant effect on stem cells derived from clinically depressed people.
The study's findings also demonstrate that a stem cell model may be utilized to examine treatment response and that fish oil as a therapy or companion to treatment for depression needs further research.
3. It Can Help People with Alzheimer's Disease
Research found that Alzheimer's disease patients who took omega-3 supplements on a regular basis performed better on memory tests than other patients who did not.
Researchers looked at 33 people who had mild to severe Alzheimer's symptoms. 18 of the participants took omega-3 pills in the morning and evening, whereas the other 15 did not. Participants' spinal fluid samples were collected, which might include illness biomarkers.
The researchers also administered a memory test at the outset of the trial and six months afterwards. Although there was no significant difference in the fluid samples, the group's performance in memory tests was clearly noticeable.
The results reveal that memory function in the omega-3 group remained robust, but memory function in the control group declined in the same period of time.
4. It Can Reduce Risks of Getting Breast Cancer
Fish oil supplements seem to change the breast microbiota and lower the risk of cancer. The Wake Forest School of Medicine researchers reached this result.
In a double-blind, placebo-controlled clinical trial, they recruited human breast cancer patients. For two to four weeks before having a lumpectomy or mastectomy, patients were given a placebo or fish oil supplements.
The findings show that including fish oil in a patient's diet alters the microbiome in both non-cancerous and cancerous breast tissue. According to the researchers, individuals who took the supplements for four weeks had more Lactobacillus—a kind of bacteria that scientists believe might reduce breast cancer tumor development in the normal tissue around a tumor.
In addition, the researchers discovered fewer Bacteroidales and Ruminococcus microorganisms in the group's breast cancers. The importance of this modification, however, remains unknown.
Always talk with your doctor before making any changes to your diet or lifestyle practices. There are also various businesses that offer omega-3 fish oil pills. Before purchasing nutritional supplements, it is important to do research and understand who you are obtaining them from, where they are manufactured, and their general quality.
If you need help in achieving your health goals, here's the EXACT formula I use to meet my goals EVERY. SINGLE. TIME. My Inevitable Success Kit is a step-by-step blueprint that shows you exactly what you need to do and how you need to do it so you can live your life the way you always believed you could! 
With Love,
Pempi 💖
Need help and support in your personal development journey?