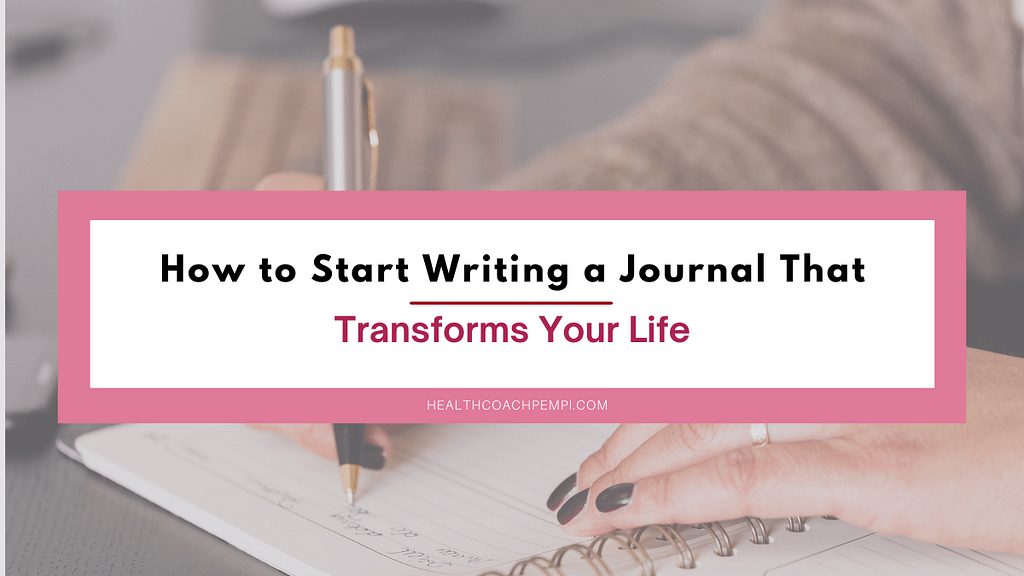 Why do you need to write a journal? Why is it important? Learn seven tips from this blog on how to start writing a journal that transforms your life.
Writing a journal is a great way to establish your future goals. It allows you to write down your experiences and thoughts. It will help you identify your goals in life. According to research, it is also good for your mental health.
Did you know you have access to one of the most effective self-improvement techniques? No, it isn't exercising or practicing good sleeping habits (although these are great habits). Learning how to begin journaling is something even more accessible.
Even though practiced for thousands of years, journaling is currently popular. All over the internet, from self-help blogs to well-known authors like Deepak Chopra, people are raving about how journaling can change your life.
Although it has recently experienced a surge in popularity, this is not just a new-age self-help fad. Consistent practice can change your physical well-being, emotional stability, and mental health.
Let's talk about the value of journaling and how to make journaling a part of your daily routine. Starting a journal can initially seem intimidating. It takes some time before it becomes a routine part of your lifestyle, just like any other habit. Here is some journaling advice to help you start and keep a journal.
1. How to start writing a Journal? First of all, Find the journaling methods that are effective for you.
Because it enables them to develop and express their thoughts more clearly, many prefer keeping a paper journal. However, writing in a journal doesn't have to be done on paper.
Finding the writing technique that suits you best when you start is crucial.
You might discover that journaling is more enjoyable for you because using a laptop is so simple.
Furthermore, you are not required to stick to just one approach. Let's say you prefer handwriting, but you suddenly get an idea while riding the subway in the morning. In that case, you can jot down your thoughts using the notes app on your phone so that you don't forget them.
2. Release judgments (write only for your eyes).
It is up to you to decide how you will keep your journal. It's crucial to practice self-compassion and leave your inner critic at the door when you're writing. The act of journaling is judgment-free.
Do not concern yourself with grammar or spelling. You're not writing for readers; you're writing for yourself. You tend to censor yourself and be less honest and authentic when you're self-critical or worried that someone will read your journal.
3. Keep expectations reasonable.
When you first start keeping a journal, don't anticipate writing reams of pages full of thought-provoking prose. A lack of immediate results from your journaling practice can make you give up because you had unrealistic expectations. Setting realistic goals and starting small will help you break any habit.

How to start a journal by writing? Reflect and identify your expectations to prevent confusion.
4. Follow a writing routine.
When you're motivated and inspired, writing comes naturally. However, what happens when you're not? 
Even on days when you're feeling uninspired, sticking to a writing routine and scheduling journaling time can help you stay on track. You could, for instance, schedule five to ten minutes every morning after breakfast or every night before bed. You can prioritize journaling and schedule it using this time-blocking technique.
5. Write anything that comes to mind in your journal.
The options are endless when it comes to what you want to write. You can journal about your day, your feelings and thoughts, or a piece of inspiration.
You can also use it to express strong emotions like sadness, anger, or frustration. By writing down, you can stop having these thoughts linger in your mind.
If you're unsure how to begin a journal, author Julia Cameron describes one technique in her book "The Artist's Way." The "Morning Pages" are what they are called. Open your journal the moment you awaken each day, and begin writing three pages of whatever thoughts come to mind.
For those who have tried it, writing in a stream of consciousness has proven to be therapeutic. It has aided their emotional processing, mental clarity, and creative expression.
6. Use journaling questions.
There will be times when you find yourself staring at your journal with nothing to write.
Don't worry; you can get past your writer's block by using one of the countless journaling prompts available online. The following topics to write about in your journal when you feel blocked are:
A gratitude list of the things and people in your life.

A difficult circumstance that occurred recently.

A letter you haven't sent to someone in your life.

Little things throughout the day that makes you happy.

The wisest choice you ever made.

Daily uplifting statements.
Be creative and express yourself without fear. Not all journal writing is prose. You can express yourself through poetry, drawings, artwork, songs, or any other form of creative expression.
The simple part of journaling is learning how to begin. It requires self-discipline to make it a daily routine. But nobody claims that forming good habits happens quickly.
If you stick to it, you'll notice how writing a journal has benefited your personal and professional life. Use it as a tool for relaxation, visualization, or self-improvement. The way you keep a journal is up to you. Make it your own.
If you want to be the healthiest version of yourself, my Femmepreneur Trifecta 90-Day Program is customized to help meet your specific health and wellness goals as an entrepreneur. 
With Love,
Pempi 💖